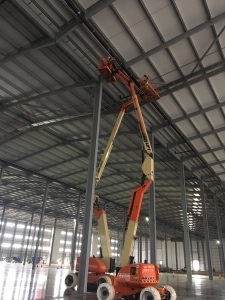 CONTACT US
Call now for a free quotation
We would be more than happy to discuss all your needs and give you a competitive quotation.
CONTACT US
High-level cleaning operations demand specialist equipment and unique workforce skills. At Intrinsic UK, we have the advanced resources to address high-level cleansing applications, such as cherry pickers and Mobile Elevating Work Platforms (MEWPs). All our operators adhere strictly to the HSE's Working at Heights Directive for security, efficiency and your peace of mind.
Over 20 years' experience in the cleaning sector means we are experts in high level applications. This expertise allows us to carry out unusual industrial cleaning services and tasks with our high-level equipment, safety practices and certifications. Our specialised High-Level teams have gained considerable experience in tackling unique and challenging cleaning tasks in a variety of industrial premises and environments:
Industrial warehousing
Building & construction projects
Food production areas
Breweries & distilleries
Production & manufacturing
We always ensure that every high-level project complies with a safe working code of practice. We also adhere rigidly to the directives of the Working at Height Regulations 2005. These dictate that operators working at height, including Intrinsic UK as the Facilities Management company responsible for those operators, must make sure work is properly planned, supervised and carried out by competent people. This includes using the right type of equipment for working at height. As the organisation in control of the work, we must first assess the risks.
That's why, following a site survey (either working with your schedule of works or by providing a personalised schedule for you) we will propose a fixed cost quotation that clearly indicates the extent and limitations of works, with no hidden extras or exclusions. You will find our quotation to be exceptionally competitive as we will not be beaten on price.
Prior to the commencement of any high-level cleaning works, we will submit a bespoke non-generic Site-Specific Package for approval, to include:
Risk assessments
COSHH risk assessments and data sheets
Method Statements
Site-specific Safety Induction
Evidence of adherence to HSE directives
IPAF, PASMA, CSCS Cards (all operatives hold accreditations)
Plant operator certificates
Waste disposal procedures, requirements and documentation
Our operatives will be familiar with the Site Pack and will sign a declaration to acknowledge that they have read and understood the works involved. A member of the Intrinsic UK management team will have a strong presence throughout the project to ensure that health and safety compliance and the Working at Height Regulations 2005 are strictly adhered to.
We are delighted to report that our continuing ability to complete high-level projects safely, on time, on budget and without incident is reflected in the exceptionally frequent repeat business we are delighted and honoured to receive.